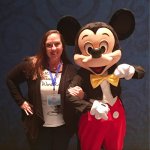 Hello everyone! I am Erin Elliott Stennett, the founder of Majestic Memories Travel & Vacations, INC. I fell in love with travel at a young age as my parents took me on many vacations throughout my youth. Growing up in a small, rural town in Southern Indiana, I understand the need to cater to people of every socioeconomic class. I attended the University of Southern Indiana in Evansville, and obtained a bachelor's degree in Social Work because I have always had the desire to help others. After the birth of my only child, I again fell in love with Disney as I could now see Disney through the eyes of my daughter. It was during this time that I began assisting others with their travel needs.
In March 2013 I completed training and became a travel agent specializing in Disney travel. Since then I have expanded my knowledge and I now book destinations all over the world including cruises, hotel rooms, rental cars, as well as vacation packages. I pride myself in finding great deals for my clients as I know the importance of pinching every penny since I was a single mother for 12 years.
In October 2017 I finally took the plunge and started my own travel agency, Majestic Memories Travel. Thank you for visiting my page, and for entrusting your travel and vacation needs with myself or one of the amazing agents on our team! Remember, we are here for you! We work with you and help you create the vacations of your dreams! Now get out there and see the world! Create memories to last a lifetime!